SARAL
Jump to: Mission Objectives, Mission Instrumentation, Mission Parameters, Additional Information
Mission Photos: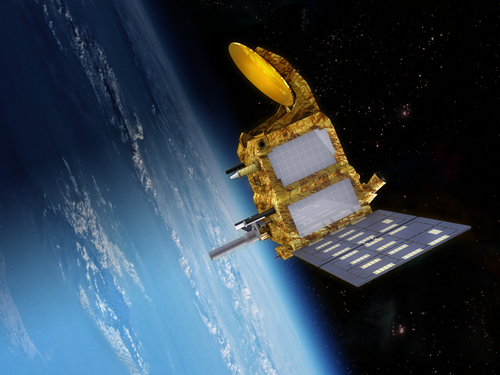 Courtesy of CNES
Satellite with ARgos and ALtika (SARAL) is a cooperative mission between CNES and the Indian Space Research Organization (ISRO) The mission is complemenatary to Jason-2 and will provide observations of ice, rain, coastal zones, and wave heights. SARAL results from the common interests of CNES and ISRO in studying the oceans from space using altimetry and providing maximum use of ARGOS (Advanced Research and Global Observation Satellite), a joint NOAA CNES data collection system.
Mission Objectives:
The main mission objectives of SARAL are to:
Create precise, repetative global measurements of sea surface height, wave heights, and wind speed
Ensure continutity of the altimetry service currently available from Envisat and Jason-1/-2
Contribute to global ocean and climate studies to build a global ocean observing system
These objectives will be accomplished by studying mesoscale ocean variability through observations of:
coastal areas
inland waters
surface of continental ice sheets
Mission Instrumentation:
The SARAL satellite will be provided by ISRO; the mission will have the following instrumentation onboard:
Altimeter/Radiometer (AltiKa) built by CNES
DORIS built by CNES
Laser Retroreflector Array built by CNES
ARGOS-3 instrument
The DORIS instrument will be used for POD, which is a fundamental requirement for achieving the goals of the SARAL mission. SLR will play an important role by providing strong tracking information to complement DORIS and by providing a unique and unambiguous verification of the absolute radial orbit accuracy.
Mission Parameters:
| | |
| --- | --- |
| Satellite: | SARAL |
| Sponsor: | CNES and ISRO |
| Expected Life: | 5 years (ARGOS); 3 years (AltiKa) |
| Primary Applications: | Earth sensing |
| Primary SLR Applications: | Precision orbit determination |
| COSPAR ID: | 1300901 |
| SIC Code: | 3201 |
| Satellite Catalog (NORAD) Number: | 39086 |
| Launch Date: | Feb 25, 2013 |
| NP Bin Size: | 15 seconds |
| RRA Diameter: | TBD |
| RRA Shape: | Octagonal |
| Reflectors: | 9 corner cubes |
| Inclination: | 98.55 degrees |
| Eccentricity: | 1.165 x 10-3 |
| Altitude: | 814 km |
| Weight: | 350-400 kg |
Additional Information:
Web sites:
Publications: